Rocket Languages and Pimsleur are two of the most popular language learning apps in the world, and coincidentally (or perhaps not), are incredibly similar in terms of program structure and content. As such, people usually have a difficult time deciding between the two. In this comparison, we highlight the subtle, yet key differences between Rocket and Pimsleur so you can choose the app that is right for you.
Editor's Choice
Rocket Languages
Free Trial
Money Back Guarantee
Pros
Comprehensive curriculum centered around interactive audio lessons

Accurate speech recognition technology (Google's Web Speech API)

Insightful grammar explanations

Regular discounts (don't pay attention to MSRP)

Recently updated digital interface (desktop and mobile app)
Cons
Lessons take some time to complete (45 to 60 minutes)

Wish there were more visual elements within lessons
How The Rocket & Pimsleur Programs Work
Before I just dive straight in and start rattling off what I like and don't like about each program, I want to provide some high-level context about these two apps.
Most of the time, when I write comparison posts like this looking at language programs side-by-side, it's fairly easy to differentiate between them and give advantages and disadvantages for each.
However, the thing with Rocket Languages and Pimsleur is that these two programs are insanely similar. I mean dead ringer. Everything from the program structure, to their learning methodology, to the lessons themselves are nearly identical.
But with that said, if you know where to look, there are some small and important differences that will steer different learners in different directions. As such, I want to attack this review in that way. I will provide a high-level overview of how the two apps work so you can get a feel for them and what to expect, then I'll dive into the details and tease out some differentiators.
Let's start with that high-level overview. From the the top down, Pimsleur and Rocket are each built around audio lessons. Speaking practice and listening comprehension are at the core of each company's learning methodology, and as such, they make audio lessons their key focus.
To start each module, each company will have you complete a 30-minute audio exercise, where a moderator speaking in English walks you through a guided conversation step-by-step.
You'll listen to a couple sentences in the language you're learning, the moderator will briefly stop to explain the situation to you, and then he or she will have you participate by answering questions and repeating phrases.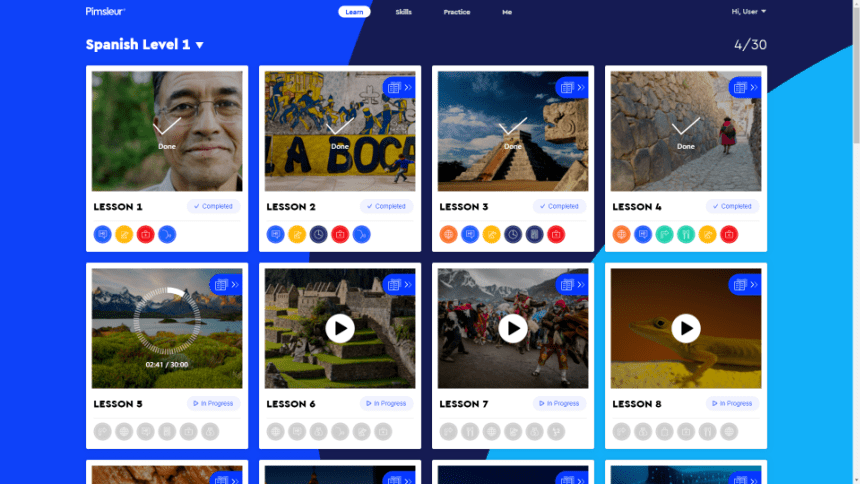 It is almost the exact same for both companies. From the 30-minute length, to the lesson moderator, to the underlying substance of the lessons, they are very similar.
Then after the audio lesson, both companies have you review and reinforce what you just learned in the audio portion by working a variety of hands-on drills and exercises. For Pimsleur, these reinforcement drills include reading drills, digital flashcards, quizzes, pronunciation training, and speed games. For Rocket, this includes listen and repeat-style drills, flashcards, quizzes, and playing the part of the one of the two speakers from the lesson's underlying conversation.
In this way, both Pimsleur and Rocket sort of create a class followed by homework framework. You get your lesson, then do your homework to drive it home.
Plus, each company has a few extras around the this main framework of audio lessons and reinforcement drills. Pimsleur has vocab bonus packs and pronunciation training with their new Voice Coach software tool, while Rocket has "language & culture lessons," survival language kits, and a handful of community features like leaderboards and forums.
From a high level though, that's how the two companies compare. The key takeaway here is that these two programs are very similar. Each company's lessons take about an hour to complete from start to finish, and place a very strong emphasis on listening and speaking with the audio lessons.
Cost Comparison
The first major difference between these two language apps is price. In short, Pimsleur and Rocket Languages do things very differently when it comes to purchasing their programs.
First, Pimsleur does the more typical subscription model, where you pay-as-you-go for their app on a monthly basis. They have two options for this. First, there's the Pimsleur Premium Plan, which gets you access to one language. That costs $20 per month.
Then there's Pimsleur All Access. That gets you access to all 51 of Pimsleur's languages for $21 per month (i.e. $1 more per month). Thus, either way, you're looking at around $20 per month for Pimsleur.
With Rocket Languages, it's pretty different. They don't do the subscription model at all. Instead, Rocket only offers one-time purchase, lifetime plans. You buy the course and get access forever.
These packages range from $150 to $450, depending on how many levels you want to purchase. It's a fairly different model, and because of this, it's somewhat difficult to compare costs here. It really comes to down to how many months you plan to use each program to determine where that break even point is.
That being said, both companies are pretty aggressive with their discounting (especially Rocket Languages) and you can almost always find a discount to knock some money off, so make sure to look for coupon codes.
Why Rocket Languages Is Better Than Pimsleur
Now that I've laid out how the two programs operate, as well as how much they cost, let's get into those key differentiators and where each has advantages. Let's start with Rocket Languages.
Use of Transcripts
The first major differentiator between these two apps is transcripts. When both companies' audio lessons are rolling, Pimsleur does not provide a transcript of what is being said, while Rocket does.
Rocket rolls a transcript right under the audio lesson controls, where you can see exactly what is being said and who is speaking.
This might seem like a somewhat meaningless difference, but it is not. For me personally, I actually leaned on the transcripts pretty heavily.
I like to see how words are spelled, and it helped me to follow along with the underlying conversation. For some people, it might not make a bit of difference, but if you're more of visual person, it can help.
Reenact Conversations
The other thing that Rocket Languages does which Pimsleur doesn't is allow you to play the part of one of the two actors in the underlying conversation. Let me explain.
Each audio lesson is built around a mock conversation. There's a simulated conversation that is the basis of the lesson, and the moderator uses it to make teaching points.
When the Pimsleur audio portion is done, it's just done. You move on to the reinforcement drills. However, with Rocket, you can take the underlying conversation that the lesson is built upon and play the role of either one of the speakers to create a little back-and-forth dialogue.
When played in real time, the conversation might only be 5 or 10 minutes long (after you strip away all the notes and moderator teaching points), but I think it's helpful to engage in this mock conversation in real time post-lesson. It's a big advantage for Rocket Languages.
Grammar & Culture Explanations
Lastly, the final difference in Rocket's favor lies in how the two companies teach grammar. When it comes to grammar, Pimsleur does things a little different than most apps.
Rather than having more direct instruction, they sort of let you discover grammar intuitively through the audio lesson. The moderator will comment on grammar usage, and discuss things like gender pronouns and verb conjugations, but it's not deep or direct grammar instruction. It's more so on you to intuitively pick up how the language works.
That's fine, and this strategy has its own merits, but I really like how Rocket does it. They take a more direct approach by offering "language & culture lessons" in each unit.
In these lessons, Rocket dives deep into a specific grammar principle, which they break down with short explanations, examples and graphics. The point of these shorter lessons is to explain the structural differences between English and the language you're learning.
Plus, Rocket also tosses in some important cultural tidbits along the way in the lessons, which is kind of cool. This is something missing from the Pimsleur program, and it's an aspect that I found really helpful.
Pimsleur
50+ Languages
Money Back Guarantee
Pros
Effective learning framework based on interval recall and anticipation

Affordable monthly subscription plans

Diverse set of practice drills following the audio lessons

Driving mode so you can complete lessons in the car

Modern digital platform
Cons
Grammar is not as much of a priority as it is with Rocket

Lessons can feel like they drag on at times
Why Pimsleur Is Better Than Rocket Languages
After setting out Rocket's key differentiators and strengths, let's now cover Pimsleur's.
New Voice Coach
The first advantage for Pimsleur is their new speech recognition software called Voice Coach. In my opinion, both companies' speech tech is really solid, but Pimsleur has an edge.
Rocket actually uses Google's web speech API, which is solid in its own right, but where they differ is in how they use their tech.
Rocket let's their software operate in the background of every speech-based reinforcement drill, while Pimsleur's Voice Coach feature is more of a dedicated tool.
Now, don't get me wrong, I like how Rocket does it, and getting a grade from 1-to-100 on all your drills is useful, but the new Pimsleur tech is very strong and offers more targeted pronunciation practice.
Moreover, Pimsleur has a special feature in the tool called challenge mode. When you turn this on, you'll be prompted in English to say a phrase in your target language with no hint as to how to say it.
This makes you think critically about what to say, plus you still need to nail your pronunciation. It's difficult, but very helpful.
Between the two apps, I do like Rocket's software a lot, but Pimsleur's new setup and speech tools are kind of game changing.
Driving Mode
My next win and differentiator for Pimsleur has to do with those rolling transcripts I noted above. Because Pimsleur doesn't use a transcript, the beauty of the audio portion of their lessons is that you're not tied to your phone.
You don't have to be staring at a screen, watching the transcript roll by. Now, as a side note and to remove doubt, you technically don't have to watch it with Rocket either—it is optional. Yet, once you get hooked on the transcript, it's hard not to use it after that point (at least it was for me).
Due to this lack of transcripts with Pimsleur though, you can hit play on the audio lessons and go about whatever you're doing. You can do a lesson while you're working out, doing laundry, walking the dog, whatever. I just really like that you can be productive with your time while still doing a lesson—it's a huge bonus.
You can even do an audio lesson while driving because Pimsleur has a special driving mode, which is really nice.
Better Digital Platform
Lastly, the final advantage I need to note for Pimsleur is user interface. Between the two, even though Rocket has done a really nice job updating their interface in the last year or so, Pimsleur's digital platform is about the best in the space in my opinion.
It is very easy to navigate, it's fast, and it's really pretty. Basically, everything is modern, snappy and responsive, on both desktop and the mobile app. Thus, if that aspect of language learning is important to you, I do think Pimsleur has a significant advantage.
Verdict: Which Language App Is Better?
So, should you use Rocket Languages or Pimsleur to learn a new language? Honestly, this is a really tough comparison to tease out a clear winner. Yet, at the end of the day, if I could only use one app for the rest of my life, I would go with Rocket Languages.
Overall, their learning system and teaching methodology just seemed to gel with me a little better than Pimsleur's framework. I like reading the Rocket transcript as the audio lessons play; I like the ability to replay the underlying conversation from the audio lesson as one of the two actors; and for me, I learn grammar better with more direct instruction like Rocket Languages offers. So that's why I would go with Rocket.
Honestly though, I really don't think you can go wrong with Pimsleur either. I've had a ton success with their program and have no problem recommending it.
How do Pimsleur and Rocket Languages compare?
The language courses from Pimsleur and Rocket Languages are actually very similar insofar as they both revolve around interactive audio lessons with fluent speakers. Yet, Rocket Languages offers more in-depth grammar explanations, while Pimsleur offers the better digital experience.
Which is better, Pimsleur or Rocket Languages?
Although it is an extremely close call, our team prefers the courses from Rocket Languages over Pimsleur's. This is in large part due to their audio lesson transcripts and helpful grammar explanations.
Which is cheaper, Pimsleur or Rocket Languages?
Pimsleur is the more affordable option between the two. Pimsleur offers affordable monthly subscription options, whereas Rocket only offers lifetime plans.