Pimsleur and Busuu are two of the most popular language programs on the planet, but are based on very different teaching methodologies. In this post, we highlight the primary differences between Busuu and Pimsleur so that you can decide which one better suits your needs and learning style.
Editor's Choice
Pimsleur
50+ Languages
Money Back Guarantee
Pros
In-depth audio lessons featuring fluent speakers

Engaging supplemental drills to boost retention

New Voice Coach feature provides instant pronunciation feedback

Complete lessons on-the-go (special driving mode)

Top-notch digital platform and mobile app
Cons
More expensive than Busuu

Wish lessons included more visuals and graphics
How Each Language App Works
I think the best way of structuring this article is starting with a high-level overview of how each app works, before diving into each program's strengths and weaknesses. In my opinion, this will help to provide some context for my personal opinion on each below. Let's start with Busuu.
Busuu
When you first log in to the Busuu app, you'll land on the dashboard, where you will see a few main categories (or tabs) on the top navigation bar. These include Learn, Community, and Review.
The Learn section contains all of your lessons to work in the Busuu program, ordered in a neat little path.
The Community feature gives you access to all of your friends and other users, where you can get and give feedback.
Then lastly, the Review tab houses all of your vocabulary review, which you do pre- or post-lesson.
Of those three tabs, the Learn category, which houses the lessons, is by far and away the most important part of the program. I would estimate that the average person will spend 80% to 90% of their time in this area. At least I did.
So let's talk about the Busuu lessons. Each one is very short, perhaps just 10 minutes long on average, and oftentimes a hair shorter.
Each lesson teaches you new words and grammar through a variety of drills, exercises and quizzes that take a number of different forms. There are fill-in-the-blanks, multiple-choice questions, matching pairs, sentence puzzles, short videos, and speaking drills.
In those speaking exercises, you record yourself responding to a prompt, and then the recording gets sent to the Busuu community for feedback under the Community tab.
Plus, every few lessons you'll be prompted to review the words and phrases you've learned up to that point, which all flow through to the Review tab at the top.
Overall, Busuu uses a very fast moving, blended approach to teaching, where you learn the material through a vary of hands-on exercises.
Pimsleur
As compared to Busuu, Pimsleur is very different. Their program is grounded in audio lessons and conversational practice.
To start each lesson, you complete an audio exercise where an English-speaking moderator walks you through a guided conversation step-by-step.
You listen to a few sentences in your new language, you get a brief explanation of the situation (in English), and then you participate by answering questions and repeating phrases. The whole exercise takes about 30 minutes.
These audio lessons are the heart and soul of the Pimsleur program, and it is what the company is known for.
In any event, after each audio lesson, you review and reinforce what you just learned through a variety of drills and exercises. It is kind of like class followed by homework in a way.
These post-audio lesson drills include reading drills, digital flashcards, quizzes, pronunciation training, and speed games.
Additionally, Pimsleur has some supplemental features too, like vocabulary bonus packs and speaking exercises with their Voice Coach tool.
That's Pimsleur in a nutshell. To recap, the program is built on core audio lessons followed by detailed review exercises, with a few bonus tools wrapped around it.
Stepping back, the key takeaway here is that these two programs are pretty different. Pimsleur lessons take around 45 minutes to an hour to complete from start to finish and place a very strong emphasis on listening and speaking within the context of simulated conversations, while the Busuu lessons are much shorter and hands-on, where you move through rapid fire drills.
Cost Comparison
Next, let's briefly discuss the cost of each app, as this is an important factor when picking a program.
Busuu uses a pretty classic subscription model and is, generally speaking, fairly affordable. Their pay-as-you-go monthly plan is $14 per month, while their longer 6- and 12-month plans break down to a cost of $7 to $9 per month.
Pimsleur also has a couple of different plans to choose from, both of which are monthly, pay-as-you-go subscription options. First is the Pimsleur Premium Plan, which gets you access to one language and costs $20 per month. The other is the Pimsleur All Access Plan, which gets you access to all 51 of Pimsleur's supported languages and costs $21 per month (i.e., just a buck more per month).
Thus, in terms of cost, Busuu is cheaper by around $6 to $13 per month on average. That said, I would just note that both companies are pretty good about running discounts where you can lock in a lower rate, so make sure to check for coupons before buying (as well as free trials).
Why Pimsleur Is Better Than Busuu
I next want to discuss the individual reasons to go with each app, contextualized by looking at where each one has an advantage over the other. Let's start with Pimsleur.
In-Depth Audio Lessons
The clearest highlight of the Pimsleur program is how their audio lessons develop your listening and speaking skills. One of the biggest accelerants of learning a language is getting frequent, heavy doses of verbalization.
You need to consistently hear and speak the new language you're learning to get comfortable with it, and Pimsleur offers much more of an opportunity to do that than Busuu.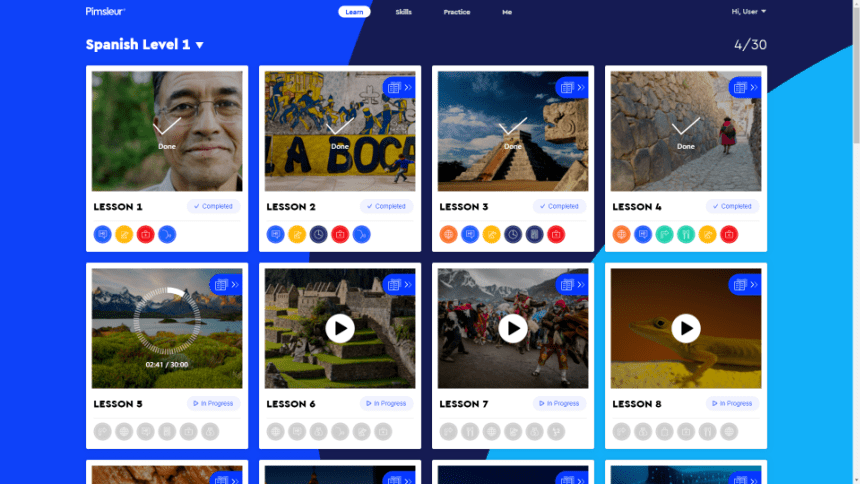 Busuu does have short videos and some verbal feedback in the Community forum, but it's nothing like what Pimsleur offers with their audio lessons.
The Pimsleur audio exercises are great at building your listening and speaking skills, and you'll develop an ear for the language much more quickly with their daily audio lessons.
Lesson Format Flexibility
My second advantage for Pimsleur piggybacks on the first—because the Pimsleur audio lessons are pure audio, they're a lot more flexible than Busuu's lessons.
Even though each Pimsleur lesson takes a lot longer to complete (about an hour vs 10 minutes for Busuu), the beauty of the audio lessons is that you're not tied to your phone.
You don't have to be staring at a screen, matching word pairs and typing phrases in. With the audio lessons, you can hit play and go about whatever you're doing. You can do a lesson while you're working out, sweeping off the back deck, gardening, doing the dishes, whatever.
In fact, you can even do an audio lesson while driving because they have a special driving mode, which is really nice. So in a sense, you can treat them almost like podcasts.
Bottom line, I like that you can be productive with your time while still doing a lesson. It's a huge bonus.
Pimsleur Voice Coach
Next, I need to call attention to Pimsleur's new Voice Coach feature. In the last year or so, Pimsleur has rolled out a new voice recognition software tool that thus far is excellent.
The program listens to you say words and phrases during exercises, and then gives you feedback on your pronunciation on a star system basis.
In my opinion, the accuracy of the feedback is really strong. When you mess up your pronunciation, it will make that clear with a poor grade.
Plus, one feature that I especially like is challenge mode. When you turn this function on, you'll be prompted in English to say a phrase in your target language, with no hint as to how to say it.
This makes you think critically about what to say, plus you still need to nail your pronunciation. It's difficult, but very effective for learning.
Given that Busuu doesn't provide any voice recognition software at all, this a major advantage for Pimsleur in my eyes.
Modern Digital Platform
Lastly, I just want to quickly note that Pimsleur has a better interface and mobile app than Busuu in my opinion.
The Pimsleur digital platform is one of the quickest and sleekest apps we've tested. Everything is intuitive, fast, and pretty (for what that's worth).
I am not implying that Busuu's user experience is poor, but it's not as good as Pimsleur's in my eyes.
Busuu
Free Version Available
Money Back Guarantee
Pros
More affordable subscription plans than Pimsleur

Good fit for visual learners (videos of native speakers)

Helpful grammar instruction layered into lessons

Personalized review sessions to drive home new vocab
Cons
Free plan is very limited

Drills and exercises not as comprehensive as those from Pimsleur

No speech recogition technology
Why Busuu Is Better Than Pimsleur
Let's next get into the advantages of using the Busuu app. Given the major program differences, I can see a few good reasons to use Busuu.
Videos of Fluent Speakers
The first highlight of the Busuu app is that their program incorporates video clips of fluent speakers.
Every few exercises in Busuu, you'll get a quick clip of a fluent speaker saying a phrase (or sentence or two).
This is something missing from the Pimsleur program. With Pimsleur, there aren't many visuals and definitely no video.
Personally, I like video, and think it's very beneficial. Seeing fluent speakers actually saying the phrases you're learning helps you to gauge body language, facial expressions, and have a visual memory aid to associate with the new words or phrases. It's a big value add for visual learners.
Short Lesson Format
Another major advantage of using Busuu is their faster, shorter lessons.
For reference, the Pimsleur lessons take about an hour to complete from start to finish (that is, the audio potion plus reinforcement drills).
Of course, you can always pause the Pimsleur lessons and come back later to finish them, but if you want to rip off complete lessons in short timeframes, Busuu will be a better option for you.
Just for example, if you only have 10 minutes here and there throughout a busy daily schedule, Busuu might just be a better fit. You can squeeze in lessons whenever and wherever.
Feedback From Busuu Community
Lastly, my final win for Busuu is their community feedback system. As noted above, Busuu doesn't have any speech recognition software to give you feedback on your pronunciation.
Instead, they leverage their entire userbase to provide feedback. For example, if you're learning Spanish, native Spanish speakers will leave you comments on your verbal and written practice exercises. Then you can return the favor by leaving comments for those people learning English.
It's not a perfect system because it does take time to receive feedback, but it definitely personalizes the experience and makes it more social.
You can connect with those people who you share feedback with frequently and sort of become study buddies. It's a different system from most other language learning apps, but can add a lot of value if you're looking for a community feel.
Final Verdict: Busuu or Pimsleur?
Personally, between these two apps, I think it's pretty clear that Pimsleur is the more robust and effective language learning program.
Busuu has a lot going for it with its video exercises, short and fun lessons, and community feedback feature, but it's just not nearly as powerful or deep as Pimsleur.
If you're serious about achieving an intermediate level of fluency, Pimsleur is going to get you there a lot faster with their audio lessons and supplemental drills. That's the app I would personally go with.
How do Busuu and Pimsleur compare?
Lesson format and length are the biggest differences between Pimsleur and Busuu. The Pimsleur lessons are longer, more comprehensive, and primarily revolve around simulated conversations with fluent speakers, while the Busuu lessons are shorter and include more variety in terms of in-lesson exercises.
Which is better to learn a new language, Busuu or Pimsleur?
After using and reviewing each program, our team believes Pimsleur is the superior choice to learn a new language. With its in-depth audio lessons, the Pimsleur program is more well-rounded and effective than the Busuu language courses.
Is Busuu cheaper than Pimsleur?
Yes, the Busuu subscription options are more affordable than those from Pimsleur. In fact, Busuu even offers a free plan, although it is quite limited.